Fabric rosettes are all over the internet right now. I am seeing them on headbands, wreaths, gift packages... They are pretty, easy to make, and can be used as accents for many different things. Here is how I make them...
-scraps of fabric cut into narrow strips
-felt in a coordinating color
1. Put a dot of hot glue on the felt, not too close to the edge.
2. Press one end of a fabric strip onto the dot of glue.
3. Twist the fabric to achieve the look you desire, as you wind the strip around and around continuously hot gluing the fabric onto the felt as you go.
4. Allow the glue to dry for a couple of minutes then cut around the rosette so the felt is hidden below the flower. I then usually glue pearls or other beads to the middle of the flower.
The flower can then be attached to wreaths,
This is one of my favorite wreaths I have ever made. I love the softness of the rosettes and pearls along with the contrasting rustic look of the grapevine wreath.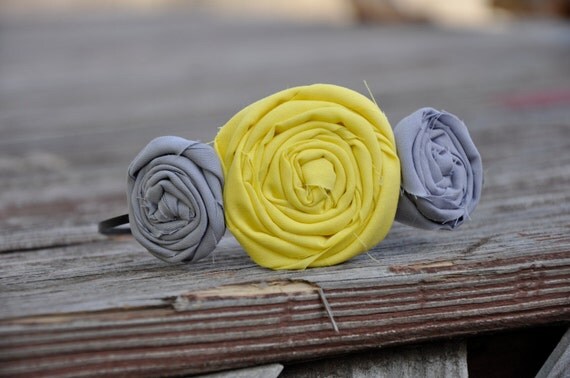 This headband is available for purchase at the LoveOwlEyes Etsy shop. Click HERE to shop!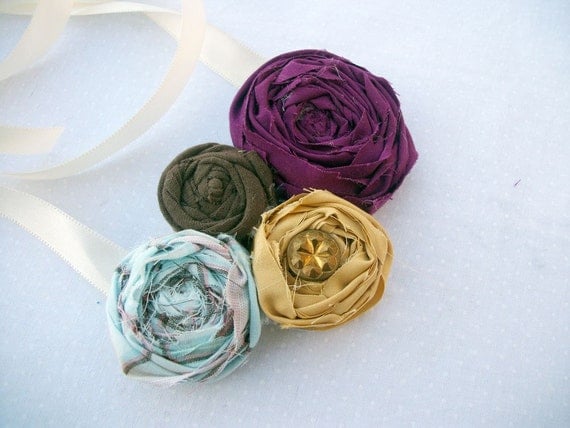 Sophisitcated Posies Etsy Shop - Click HERE to shop!
Use your imagination; the possibilities are endless! As you can see in the photos, it is pretty to use more than one in a grouping. Mixing different fabrics and using different size rosettes also provide a variety of embellishment opportunities.