Last month I went online looking for tablecloths for our breakfast nook table. I came across vintage tablecloths and was immediately drawn to the 1950s styles.
Found these on Pinterest
These styles reminded me of my grandmother's table when I was a little girl.
Also from Pinterest-I just love this picture! Love how the tablecloths are displayed!
Through my internet research, I knew there were tablecloths from that era that were aqua/turquoise and red. This was the color scheme I was hunting for.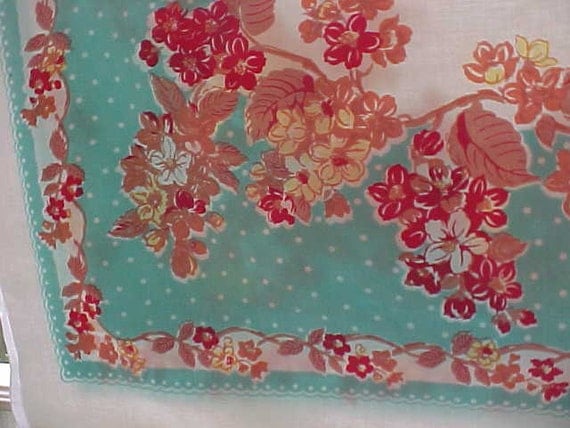 Found this on Etsy
Found this one on ebay
I began hunting for just the right one at garage sales. I got super excited when I found a whole booth of vintage tablecloths at the farmer's market that we frequented. I hunted through the piles of treasures but couldn't find anything quite like I wanted.
And then I found it...
..at our local antique store! Just a couple blocks from home!
I make a quick trip through that antique store once every couple of weeks and had never seen them before! It was during one of my usual jaunts that I came across this one. I felt it was a steal at $12.00 as through my "window shopping" I had found that these could run for much more than that. I didn't buy it but went home and excitedly told my husband about it. He listened, reached for his wallet and handed me a twenty! (Completely not like him!) I got right back in the car and went back to get it! It feels even more special because for weeks he had accompanied me on my hunt for just what I wanted and then when I found it, handed me the money encouraging me to get it!
Oh, boy! Look at the big tub of squash and zucchini! Tons of it out of the garden for several weeks!
I washed it and immediately put it on our table. The colors look good with the paint color in the breakfast nook area and the red sort of pops out! It fits the table perfectly!


I can't help but wonder who it had belonged to before me. I wonder if another young mother washed it and spread it across her table too. Did she let her kids eat with it on the table? Probably. I wonder what her kitchen color scheme was and if she found the red cheerful like I do.
Did her family sit at it and talk about their day? After each meal, did she stand on her farmhouse porch and shake it out? I wonder where she got it and if it was a gift. I wonder how it ended up at the antique store in my little town? Maybe it belonged to someone right here in my area!
I imagine it has a story to tell!
*********************************************************
Have you seen the Sister-Dipity giveaway opportunity going on right now? If not, click
HERE
to find out more!