This is the light fixture I have above my breakfast nook table in my kitchen. (This photo is from my blog post about
Ricky, our Elf On the Shelf
.) I have never really cared for this light. It was here when we moved in 13 years ago. I have tolerated it for a number of reasons. For one thing, it provides good light. It has six bulbs on top and one pendant light that shines down underneath. It lights up the area very well. It has an oak frame to it and the trim in our house and much of our furniture is oak as well. Another HUGE reason I haven't done anything with it is because my better half does not like change. And he feels "if it is not broke - don't fix it!" He would never see the need for a new light here or understand what I have found wrong with this one. Well....I painted the kitchen and breakfast nook area about a year and a half ago and it is headed more in a "shabby chic" sort of direction as far as the decor goes. I am really wanting a new light fixture. I want a Ball jar light fixture and I want to make it myself....or maybe with a little help?!?!
I am seeing the Ball jar lights everywhere online - Etsy, EBay, DIY blogs, and lighting stores. Here are a few that I like...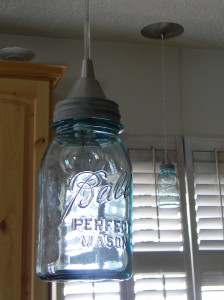 I love the blue Ball jars and actually already have some that I inherited from my grandparents' house when I was about 13 years old. I have always loved "old" stuff and these were no exception. I loved the color, and the fact that they came from my grandparents makes them extra special.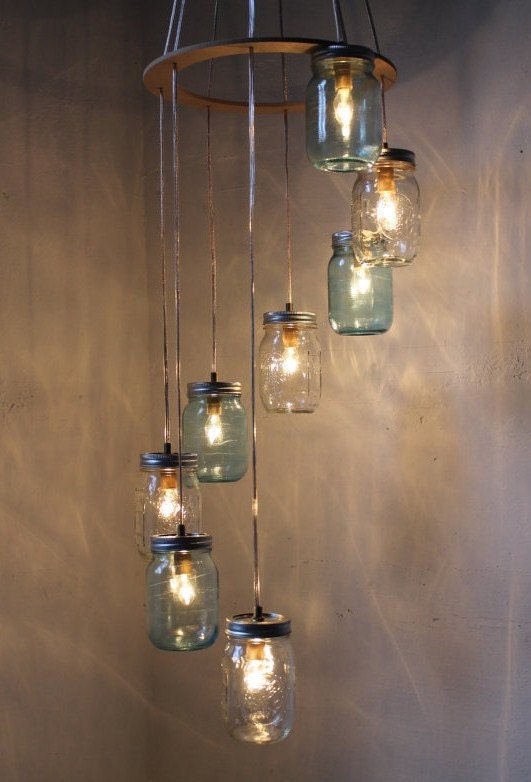 This Waterfall Splash Chandelier is so grandiose, isn't it? It is a bit much for what I have in mind and I don't want to spend $210.00 on this project, but I do like it!
I like the simplicity of this one but really want to use the blue Ball jars.
Okay, now this 5 jar pendant from Pottery Barn is more like what I have in mind but with 3 lights, rather than 5 and again with blue jars. 
Yes, kind of like this! But again, with blue jars. I'm concerned though that it is not going to produce as much light as our old one we have now. I'll have to experiment....and call my dad! Any projects I think of that might involve tools requires a phone call to my dad. I actually have a board on Pinterest entitled "Boppa" - that's what the kids call him! He and my hubby are going to think I'm nuts. They are used to that though. Oh, well, a girl's gotta do what a girl's gotta do! I'll keep you posted. In the meantime, shhh...don't tell my husband! :)
************************************************
Have you entered the big giveaway going on
right now for over $200 in prizes?
If not, you have a couple more days to enter!
See
HERE
for more details!